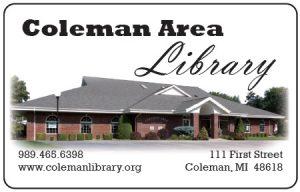 Open a world of possibilities with a library card. Get yours today!
How to get a Coleman Area Library card:
New library cards must be applied for in person.  Stop in at the library during normal business hours.  All residents of the following areas are eligible to register for a library card free of charge from the Coleman Area Library. 
City of Coleman
Warren Township
Geneva Township
Edenville Township 
To register for a library card, the applicant must show current proof of address on a valid Michigan Driver's License or a Michigan State ID card.  If you need to update the address on your ID, please visit the Michigan Secretary of State.