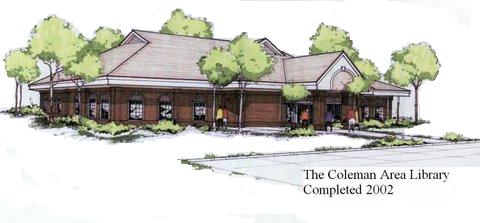 The Coleman Area Library is dedicated to the cultural and educational spirit of the community, the Library is committed to providing public access to information and materials regardless of format for library patrons with friendly, competent, accurate and expedient service.  Library materials and services encourage life-long learning, act as a catalyst for the free exchange of ideas and promote literacy among all people regardless of race, religion, creed or color or national origin.
Founded in 1968 as a branch library and established as an independent library in 1976, the Coleman Area Library provides services to residents in the City of Coleman, Geneva Township, Warren Township and Edenville.  The new library building was completed in 2002.  The library strives to provide our community with a comfortable and convenient location for reference information, literacy, free public computer access and various other resources.  The library promotes recreational reading for all ages.  The Coleman Area Library offers bi-weekly story time for preschool children as well as a popular summer reading program for children and adults.
Memberships
The Coleman Area Library is a member library of the Valley Library Consortium.  These libraries participate in a shared bibliographic database, including over 826,000 titles and over 1.9 million copies available to all library cardholders within the consortium.
The Coleman Area Library is a member of the Mideastern Michigan Library Cooperative, a resource-sharing group that provides our patrons with access to Overdrive ebooks and other services.
The Coleman Area Library is a member of the Midwest Collaborative for Library Services, a library membership group that provides group purchasing, training, and other services. This means that Coleman Area Library cardholders can borrow items from libraries all over the state via MeLCat interlibrary loan.
Library Board
The organizational structure of the Coleman Area Library board consists of a total of six appointed members from the City of Coleman, Geneva Township and Warren Township.  Each member serves a four-year term.  Board meetings are held at the library on the third Tuesday of each month at 7:00pm.
2023 Board Members
Director:   Gale Nelson
Board Chairman:  Linda Anthony
Board Vice Chairman:  Thomas Coon
Board Secretary:   Nancy Robison
Treasurer:   Maureen Middleton
Trustee:   Greta Tigner
Trustee:   Annetta Scott
Library Staff
Director: Gale Nelson
Assistant Director: Amy Comber Gross
Library Page: Shirley
Library Page: Wendy
Library Page: Mady
Library Page: Kelly
Library Page: Hannah